Concrete is one of the most widely used modern building materials. It became very popular after the invention of Portland cement in the 19th century. Concrete is an ¡°artificial stone¡± obtained by mixing cement, sand, and aggregates with water. Fresh concrete can be molded into almost any shape, giving it an inherent advantage over other materials.
Concrete is only as good as the quality of its processing. Concrete finished to a high standard require first-class quality equipment. PME offers exactly that internal and external vibrators, wet screeds and towers for quality concrete. PME has the innovative products you need to get your next concrete job done efficiently and economically. From demolition, site and reinforcement prep to placement, consolidation, finishing and curing. PME is the manufacturer of choice when it comes to anything concrete.



Concrete mixer



| | | |
| --- | --- | --- |
| | | The concrete mixer mixes cement, sand, gravel and water to create concrete. This machine has entirely changed the traditional way of mixing concrete by hand. PME supply many types and models of cement mixers on the market with different capacities, specifications and configurations. |
Concrete vibrator


The basic principal of concrete vibration is to consolidate the mix by removing entrapped air. Vibration is a series of rapid compressive impulses which greatly reduces the surface friction between the various size particles of the mix. The result is the rearrangement of these particles into a denser mass. During the vibration process. Unwanted trapped air escapes to the surface.
The advantages of consolidating concrete by vibration:
¡¤Greater density of the concrete
¡¤Greater strength
¡¤Improved bond with reinforcement steel
¡¤Greater bond on construction joints
¡¤Greater durability
¡¤Improved product finish





Power trowel


A power trowel is a construction machine used to impart a smooth surface finish on freshly poured concrete slabs. Power trowel can be used on larger concrete slabs requiring a floated or troweled finish.Compared to concrete hand finishing tools, power trowels significantly increase production and reduce costs by their ability to finish more square footage of a slab area per day. At the same time they improve quality of the concrete surface and help to maintain flatness on the slab.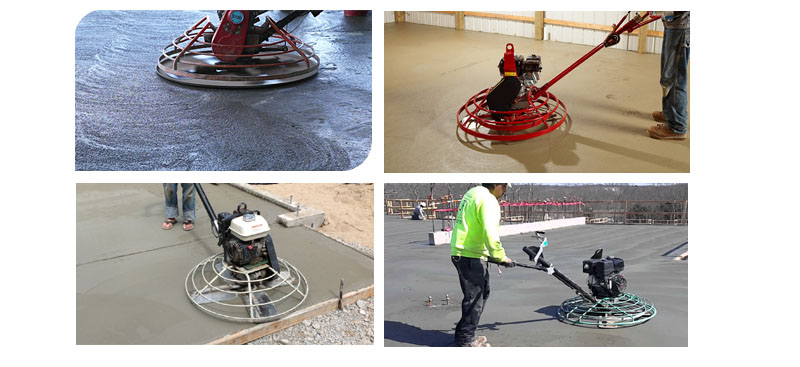 Surface finishing screed


Vibratory Finishing is a process that works on a chemical-mechanical basis to finish surfaces. When finishing concrete slabs, PME¡¯s screed can fit the demands of every job site with a variety of blade lengths, plus each unit is designed to fit the demands of every operator.